The only dumb question is one not asked. The old adage certainly rings true in my case. You see, I once tossed around the idea of getting a stair lift. I had all sorts of questions floating around in my head. But…I didn't ask them. Neither did I get one. To this day, I regret the decision …and it's too late.
It's too late because the stair lift I was considering was actually for my mother and she is no longer with us. She had a severe knee condition that prevented her from safely and comfortably using the stairs in her home. Because I didn't help her pursue having a stair lift installed, she was forced to sell her home. She moved in with family but she would have much rather lived out her days in her own home. I still regret never checking further into the matter.
I was recently diagnosed with myelopathy – an interference in the signal that goes from my brain to my legs. I now walk with a limp and have poor balance. While it's not painful, I am at high risk for falling down the stairs in my home. Not wanting to make the same mistake twice, I committed to do some research on stair lifts. I was amazed and rather surprised with some of my findings and think you will be too.
What is a Stair Lift?
It's a machine that transports a person up or down a set of stairs. Why would someone get a stair lift? When the staircase that separates you and the upstairs of your home becomes a stumbling block (literally), a stair lift can bridge the gap.
The Benefits
The are many benefits of having a stair lift:
Prevents the risk of falling
Eliminates the pain many experience when walking up and down stairs
Allows you to easily carry things (such as laundry or a glass of water)
Enables those with disabilities and the elderly to stay in their home
Puts your worried mind at ease and also calms others who are concerned about you
Who Needs a Stair Lift?
Who would benefit from having a stair lift? Basically anyone with a mobility problem needs one. In addition, those who foresee a condition that would prevent the safe and comfortable use of stairs would stand to gain from one.
The National Institute on Aging estimates there are 35 million people in the United States that are age 65 and older. Life expectancy has doubled within the 20th century yet thousands of elderly are placed in nursing and retirement homes before their time. Why? They are unable to safely live in their homes.
According to the National Council on Aging, an older person is admitted into an emergency room due to a fall every 11 seconds. Every 19 minutes, a senior citizen dies from a fall. Stairs are obviously a hazard, but one that can eliminated through the installation of a stair lift.
Stair lifts are beneficial for young and old alike who have handicaps or suffer from medical issues. Here are some of the many conditions that may warrant the need to bypass the stairs as cited by RightDiagnosis.com:
Autoimmune Thyroid Diseases
Osteoarthritis
Muscular Dystrophy
Spinal Stenosis
Brain conditions such as Cancer
Chronic Inflammatory Demyelinating Polyneuropathy
Graves' Disease
Dermatomyositis
Guillain-Barre Syndrome
Hemiplegia
Hemiparesis
Migraines
Rett's Syndrome
Primary Lateral Sclerosis
Varicose Veins
Fractures
Marfan Syndrome
Multiple Myeloma
Transient Ischemic Attack and Strokes
Heart Conditions
You may have a medical condition that has not yet affected your mobility but is expected to do so as it progresses. It's never too early to prepare. Even if you are completely healthy, thinking ahead to the safety of your senior years is always wise.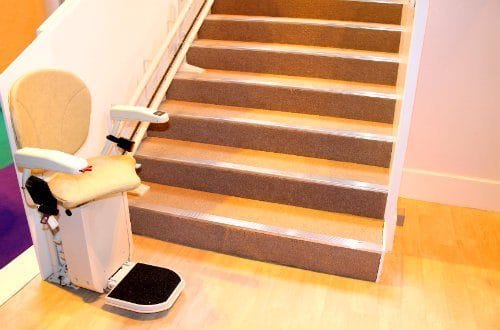 How It Works
You don't need to know exactly how a stair lift works, but it certainly helps to have a basic knowledge of the nuts-and-bolts of it if you are considering getting one. You'll be better able to understand the information you'll encounter when looking for one. In the event you purchase one, it will also help you understand how to properly use it and identify any potential problems.
Carriage or Perch
There are two main parts of the stair lift. The carriage is the place where you sit, stand or place your wheelchair. The seated type have the actual seat, an armrest, a foot resting plate and a seat belt. The stand-up versions have perches while the wheelchair carrying models have vertical platforms.
Power (Motor and Battery)
Underneath the carriage is the motor and the battery which enable the lift to move. Late models generally operate via a rechargeable battery that is housed inside the carriage, just below the seat. When it is parked, it recharges through mains electric. Some older models rely on wired electricity and have a rechargeable back-up battery. It is important for any model to have accessibility to a battery powered option in case the power is out.
As far as speed goes, stair lifts are slow for obvious reasons. Most go about one mile per hour. Generally there is only one speed available.
Rail or Track
There is also a rail or track which is what the carriage moves up and down the stairs on. Most models attach to the stairs but a few connect to the wall. Rails or tracks come in straight or curved versions.
Control
When it comes to controlling the movement of your stair lift, you have two options. One method is to use a set of buttons on the armrests. More often than not, the buttons are on both sides to accommodate left or right handers. Occasionally, they will be custom placed accordingly. A mini joy stick is the second option.
There is also the remote control option which can be used in addition to or instead of the buttons or sticks. The remote control can be used to command the chair to the foot or the top of the stairs in order for the rider to board and can also be operated by a second person which can be very helpful in the event the rider is not able to operate it his or herself. In general, stair lifts come with two remotes, one to be left upstairs and one downstairs. Some systems have remote controls attached to the wall at the top and bottom of the stairs.
Parking
Normally, a stair lift is simply parked at the top or the bottom of the staircase. When at the top of the stairs, the chair is usually situated just above the highest step, even with the floor. At the bottom, it is generally placed aside in the hallway or another out-of-the -way location.
In the event that you have a door that will be in the way, at the top or the bottom of the stairs, or if you don't have a wall that continues, parking can pose a hazard. To remedy the risk of you or someone else tripping over the chair or running into it, you can park it on the staircase but, you will need a hinge which is a movable rail or track that can be lowered so you can get in your chair. A hinge can be automatic or manual. The option to park your chair to the side is only available with a curved rail.
Different Types Of Lifts For Each Type Of Stair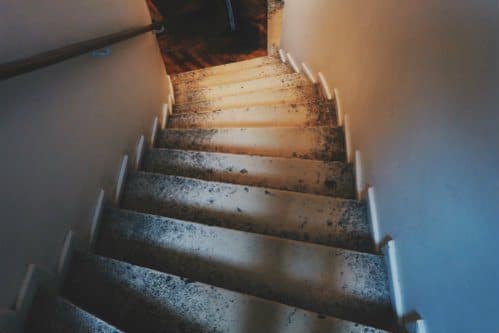 Straight stairs
Straight rails or tracks are used for stairs that have no bends or curves.
Curved stairs
A curved rail accommodates stairways that curve or bend and are also used for straight stairs when you want to be able to park your carriage to the side of the stairs. Because they are more complicated to install and require being customized, curved rails are more costly.
Outdoor stairs
If you have a patio or porch area you are having trouble accessing, an outside stair might be the perfect solution. Sometimes outdoor lifts are even needed just to get upstairs like when you have an entry stairway to a second level living arrangement. Outdoor lifts can be either straight or curved and are weather-proofed in order to withstand the elements.
Accessories
There are a lot of accessories that are available to go with your stair lift. A few will usually automatically come with your chair and others can be ordered separately. Here is a list of accessories you may want and/or need:
Seatbelt
Swivel Seats
Adjusted Height of Chair
Folding Carriage Steps
Soft Start and Soft Stop Actions
Key-Required Start-Up
Obstruction Sensors
All the Bells and Whistles
Economy models usually offer the basics without much frill. If you want to choose from a wider variety of colors, have extra safety features or a more sophisticated control system, an upgrade to a premium chair is in order. Some allow you do such things as customize the color of the upholstery, choose the color of the wood trim and opt for a swivel power seat. There usually many luxuries available with premium models and you may find great bargains on reconditioned ones.
Things to Consider
Weight. It is necessary for stair lifts to set a recommended weight restriction for safety purposes. For seated chairs, the average weight allowance is up to 360 pounds. It is much lower for stand-up units, however. Generally they max out at 224 pounds. If you weigh over 350 pounds, there are special order heavy-duty and bariatric lifts that can accommodate people up to 500 pounds.
Wide seats may be custom-ordered as well. My mother always thought she would weigh too much for one. We had no idea that the traditional lifts could handle as much as they do let alone the fact stronger ones are available.
Height. If you are extremely tall or short, you can have a chair customized so that you can safely and comfortably get in and out of your chair. For those that are over 6'1", a chair with a higher seat and extended height from the floor to the chair is recommended.
Cost and Pricing Overview
You should expect to pay approximately $2,500 to $5,000 for your unit. Custom covered curves can cost in the neighborhood of $10,000.
The price will vary depending on the quality of stair lift you choose, complexity of installation that is required, additional features you may opt for and what company your purchase from. The overall price should include installation, a permit and inspection (where required), and a warranty.
In doing some comparison research, you are more likely to get a good deal. You may find a good sale. Some companies offer financing. You may even find that the cost of your chair is covered all or in part by Medicare or your insurance. I hate to admit it but that is something that never crossed my mind when thinking about one for my Mother.
Medicare classifies stair lifts under Durable Medical Equipment (DME). There are many stipulations but it is quite possible you may be able to rent or buy your lift for a fraction of the regular price. Generally installation is not included though. Some chair lift companies work with Medicare and insurance companies while others don't.
To find out more about the possibility of using your insurance, you will need to talk to your provider or look into your policy. For information on Medicare coverage, you can find the facts out at Medicare.gov, an official U.S. Government website.
Stair Lift vs. Residential Elevator
If you are trying to decide between getting a stair lift and a residential elevator, a lot will depend on your individual circumstance. Your specific medical needs, the lay-out of your home and other factors will come into play along with your personal preference. Here are some advantages to both:
Stair Lift:
Generally less expensive
Wide selection of options (straight or curved, heavy-duty, color choices, etc.)
Typically no need for remodeling
Speedy installation
Residential Elevator:
Cosmetic looks
Unique appeal
Accessing multiple levels
Cab customization available
May be more accommodating for your wheelchair situation
Pro Tips to Finding the Best Fit for Your Needs
Know your brand.
Know your dealer.
Be sure your dealer is certified.
Be sure you communicate your medical needs to your dealer.
Make sure you communicate your preferences or special requests to your dealer.
Thoroughly research financial aid options if applicable
Be certain your dealer knows your staircase and all information regarding it.
Investigate the warranty fully.
Be aware of what country your stair lift is made in.
Don't feel pressured to purchase.
Conclusion
Did you enjoy this article about stair lifts? I hope that you have learned some things you didn't know before and that it answered any questions that you had about them. I wish I had learned these things when my mother was still alive so she could have been able to enjoy her home longer rather than being forced to sell it and move to a one-story house.
But, the good news for me is that at least I know now and can apply my knowledge to my own situation and that I can pass it on to you as well. I hope you do the same.
We would love for you to tell us what you think in our comment section.
If you liked this article and found it helpful, we'd love for you to share it to help others. Remember, there is hope. If your stairs are getting you down, you may just need a lift!
Are you thinking about getting a stair lift?
If so, you probably have some questions running through your mind like what a stair lift actually is, if you need one and if one would work on your staircase.
Just considering the purchase of a stair lift is a big step. I'll help walk you through it.